We offer a full selection of SCUBA diving masks in a variety of brands and sizes.

WARNING

These masks are not "pool toys"; they are intended for use by SCUBA divers who are trained to make a proper water entry while protecting the mask and regulator with their hand. Improper handling or use may cause lenses to shatter upon impact.
Don't use toothpaste as an abrasive cleaner on modern dive masks, especially those masks that have optical quality ultra-clear glass lenses, vision correction lenses or 'optical coatings' on the lenses. You will either damage the lenses, or needlessly waste toothpaste since most modern toothpaste formulations are not at all abrasive. The same goes for using a lighter to 'burn' the lens to prepare a new mask. Dive Gear Express will not warranty masks that have been treated with abrasives or burned with lighters.
Most new dive masks do have mold release agents in the flexible skirt that during storage will migrate to the surface of the lens and cause fogging. These deposits can be safely removed with an extra application of a powerful surfactant like liquid dish soap, baby shampoo, SeaQuick or SeaDrops defog.
Form vs. Function in Dive Masks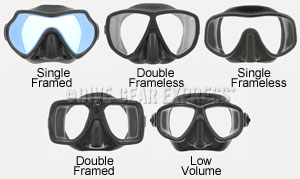 Frameless vs. Frame:The lenses in frameless designs will sit closer to your eyes offering a little wider field of vision in all directions. Frameless designs are also typically lower volume than rigid frame designs. The lack of a thick rigid frame means frameless styles can be folded up very flat and easily stowed in a pocket as a 'backup' mask. Most people find that the traditional rigid frame designs offer the most stable and secure fit. Select a framed design if you are one of those rare individuals who have difficultly finding masks with a good fit.
Single vs. Double Lens: Single lens styles will normally offer a somewhat less obstructed view compared to double lens styles because of the absence of the nose bridge. However, single lens masks are typically heavier than double lens mask because there is simply more glass. Double lens styles are also usually lower volume than single lens designs. The extreme teardrop lens shapes offer better 'look down' vision, but at the expense of increased volume.
Low Volume vs. Snorkel: Divers should never use the typical 'snorkel mask' because it holds such a large air volume that it requires excessive effort to clear of water and as well as being wasteful of breathing gas. There is no 'perfect' mask, but all the masks we offer are suitable for diving and have been carefully selected to be relatively low-volume designs with good field of vision. Some low volume masks we offer are very low volume and sit very close to the face, making them a poor choice of you have a large nose or facial hair.
Frankly, the differences of frame and lens styles are very subtle in the high-quality masks offered by Dive Gear Express. Choice is largely a matter of personal preference and your experience.