The Shearwater quality, color display and Advanced Nitrox feature set make the Peregrine price an exceptional value dive computer.
The original Shearwater Peregrine was announced in July 2020. In May 2023, Shearwater announced the Adventures Edition Peregrine in both light and dark versions that differ in cosmetic styling from the original edition. The original edition has a black case with a blue inner display bezel and logo along with black wrist straps long enough for use with drysuits plus optional use black shock cord for bungee wrist mount. The dark edition has a gray case and shorter gray wrist straps suitable for wetsuits with optional use orange accent-color loop bands and bungees. The light edition has a white case and shorter white wrist straps suitable for wetsuits with optional use teal accent-color loop bands and bungees. The Adventure Editions also have a silver color inner display bezel and white logo. Each version comes packaged in a matching color-coordinated ballistic case. Just to be clear, the Adventures Editions versions and the original Peregrine version are all functionally identical (other than the wrist strap length) however the Adventures Editions are slightly higher in price.
Fraudulent purchases of dive electronics has become a widespread scam, then the stolen item is sold in an anonymous transaction through marketplaces such as eBay, Amazon, or a discussion forum. To protect yourself, prudent divers should only purchase directly from a reputable dive equipment retailer. We don't want to become part of the problem, so to help protect the diving community we have additional security procedures to verify payment on orders for this product are legitimate; we sincerely apologize for any inconvenience.
ADVISORY: Dive electronics are shipped as "Signature Required", but you may use the appropriate USPS Informed Delivery®, UPS My Choice®, or DHL On Demand™ website to authorize delivery without signature. However, by doing so you are accepting liability for the risk of loss or theft.
Peregrine vs Perdix 2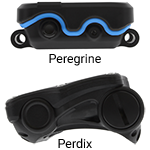 Shearwater introduced the Perdix richly featured technical diving computer in 2016 (updated to the Perdix 2 version in 2022), and the Peregrine extended range sport diving computer in 2020. They have identical color displays with very similar core feature sets and operation. At half the price of the Perdix 2, the Peregrine can best be thought of as a value engineered Shearwater dive computer appropriate for Air and Nitrox divers that supports multi-gas planned decompression diving, yet without compromising on quality or ease-of-use.
The Perdix 2 is a best-in-class technical dive computer that includes support for Trimix, VPM alternative deco algorithm, wireless air integration, an electronic compass and rebreathers. the Shearwater Perdix 2 Ti case also has a titanium bezel and titanium piezo touch buttons with user adjustable sensitivity plus an aluminosilicate toughened glass lens that has improved clarity and damage resistance. Compared to the very deep rating of the Perdix case, the Peregrine low profile case design is appropriate for the depth limits of Air and Nitrox divers thus allowing significant cost reduction. Omitting the wireless air integration radio receiver and the electronic compass generates further savings. No need to support mixed gas, VPM and closed-circuit also allows for simplified software. The Perdix is powered with any AA size battery and is user changeable, the Peregrine is powered with an internal rechargeable Li-ion 900mAh battery.
The Shearwater quality, color display and extended range feature set make the Peregrine an exceptional value.