The Shearwater quality, color display and Advanced Nitrox feature set make the Peregrine price an exceptional value dive computer.
Fraudulent purchases of dive electronics has become a widespread scam, then the stolen item is sold in an anonymous transaction through an online marketplace or a discussion forum. To protect yourself, purchase directly from a reputable dive equipment retailer.
ADVISORY: Dive electronics are shipped as "Signature Required", but you may use the appropriate USPS Informed Delivery®, UPS My Choice®, or DHL On Demand™ website to authorize delivery without signature.
Peregrine vs Perdix 2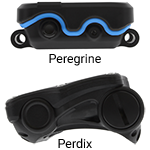 Shearwater introduced the Perdix richly featured technical diving computer in 2016 (updated to the Perdix 2 version in 2022), and the Peregrine extended range sport diving computer in 2020. They have identical color displays with very similar core feature sets and operation. At half the price of the Perdix 2, the Peregrine can best be thought of as a value engineered Shearwater dive computer appropriate for Air and Nitrox divers that supports multi-gas planned decompression diving, yet without compromising on quality or ease-of-use.
The Perdix 2 is a best-in-class technical dive computer that includes support for Trimix, VPM alternative deco algorithm, wireless air integration, an electronic compass and rebreathers. the Shearwater Perdix 2 Ti case also has a titanium bezel and titanium piezo touch buttons with user adjustable sensitivity plus an aluminosilicate toughened glass lens that has improved clarity and damage resistance. Compared to the very deep rating of the Perdix case, the Peregrine low profile case design is appropriate for the depth limits of Air and Nitrox divers thus allowing significant cost reduction. Omitting the wireless air integration radio receiver and the electronic compass generates further savings. No need to support mixed gas, VPM and closed-circuit also allows for simplified software. The Perdix is powered with any AA size battery and is user changeable, the Peregrine is powered with an internal rechargeable Li-ion 900mAh battery.
The Shearwater quality, color display and extended range feature set make the Peregrine an exceptional value.